About Us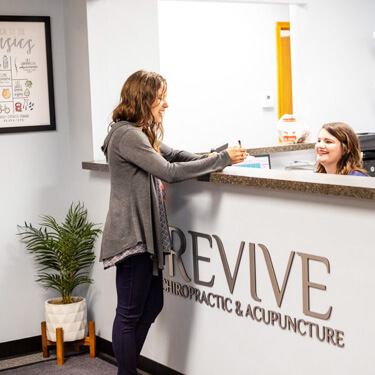 Revive Chiropractic & Acupuncture has been a Hutchinson staple for family friendly chiropractic care since 2015. We are so proud to have created a casual, fun, inviting environment that our clients actually love to be in. Our office is specifically designed to make families comfortable, from the kids' area in our waiting room to the nursing and fully stocked changing room in the back.
Our Philosophy
Our practice is aptly named Revive Chiropractic & Acupuncture, stemming from our desire to let each of our patients walk out the door feeling fresh and vibrant and better than when they walked in. "Revive" allows us to express our ultimate goals for you and your wellness with one simple word.
Our philosophy is that your chiropractor can provide better work and you can achieve better results with a solid foundation of friendship and trust, rather than a simple and cold adjustment-based relationship. Our goal is to provide expert care with awesome customer service, mutual trust, and a friendly environment. We ultimately strive to provide the safest and most effective care available for new moms, expectant moms, children, and infants in addition to regular chiropractic care for pain in adults.
A Variety of Modalities
Dr. Stacia Biel is skilled in both chiropractic and acupuncture, and relies on her extensive education and experience to provide the proper mix of both for each individual patient. The office practices various other forms of therapy that could provide assistance to your specific adjustment needs.
Relief Care and More
Revive Chiropractic & Acupuncture is typically more focused on relief care than wellness care, a practice that allows us to build up a patient's ability to self-realize when they need to seek help. We are here when you need us but our office does not require membership or package based care. This is also an effort to support one of our primary principles: that our business practices are always transparent and fair. We don't want you to spend time and money on care that you don't need, especially with our focus on young families. Our goal is simply to provide the relief you need, when you need it. We do have many families who choose to see us on a regular basis to experience the benefits of wellness chiropractic care as they notice their families being healthier and happier when they are seen on a regular basis, but we will never pressure you to do so.
Fair and Transparent Services
Our financial practices are specifically designed for young families to have a completely transparent picture of what they can expect to pay before their care begins. Our billing system is designed to avoid big surprise bills and our straightforward pricing is clear, simple, and accessible. Honesty is integral to our practice and we do everything in our power to make your care affordable and burden free. We are also an in-network provider of many local insurances. Contact our office for more information on our pricing and insurance compatibility.
The Miracle of Chiropractic Care
Dr. Stacia helps women overcome issues with fertility every day in her practice, and has watched many of her own clients go from acupuncture patients to prenatal patients to treating their newborn infants. She has seen firsthand the positive effect that acupuncture and chiropractic care can have on children with chronic migraines, bedwetting, and behavioral issues.
Even our most skeptical patients have left feeling better, whether it's a little or a lot. Setting your fears and skepticism aside to give chiropractic care a try just might be the solution you've been looking for. Dr. Stacia is confident that she can gain your trust and help alleviate the issues holding you back from your best life.
MEET DR. STACIA »
Learn More Today
Find out why so many people leave their first chiropractic amount feeling immediate relief from pain and discomfort. Contact our office for more information on your body's natural ability to heal itself!
---
About Revive Chiropractic & Acupuncture | (620) 259-6399